Speaking
Kathy has a heart to encourage individuals and families, and would love to come and speak to your group! Drawing on her own life experiences (as shared in her book, Born to Deliver) and thousands of hours observing, helping, and counseling families through her midwifery ministry, Kathy is eager to share insights and practical suggestions to help others avoid making the same mistakes she did. Grounded in the Word of God, Kathy boldly shares biblical principles that overflow from a heart of compassion and a desire to see others find hope, redemption, and purpose in life.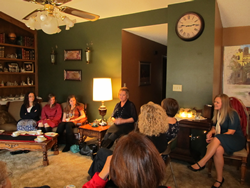 Whether you're looking for someone to share in a small group setting or at a large gathering, Kathy is open to prayerfully working with you to put together program topics that address the needs of your group. Here are a few examples:
For Teens
Relationship SOS – help for troubles with family, friends, boyfriends/girlfriends, and more.
For Women
Finding Freedom from Secrets – how to come clean with your past and find healing and hope for the future.
For Men
How to Capture Your Daughter's Heart Before the Creep Does – understanding the crucial role fathers have in setting their daughters up for confidence and success in life.
For questions and booking information, please contact Natalie Weber (natalie [at] borntodeliver [dot] com).
"Learn from my mistakes, not yours."
~Kathy Brace