52 Things Kids Need From a Dad
This book, 52 Things Kids Need From a Dad, caught my eye in the airport on a recent trip. After skimming a few of the chapters, I picked up a copy and have continued to go through it.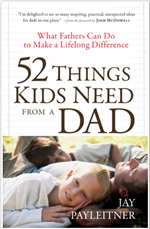 So far I've been really impressed with the practical, biblical advice and tips offered by Jay Payleitner for dads who want to be a good father but may be looking for specific ways to make it happen. If only all dads realized the tremendous impact that they have on their children – for good or bad – I think every dad would eagerly pick up books like this to find new insight and ideas!