Lies Young Women Believe
In this truth-packed book, Nancy Leigh DeMoss artfully exposes the subtle and not-so-subtle lies holding many young women captive today. She then goes on to counteract each lie with important biblical principles that can be used as swords to combat these vicious and deceptive attacks on our hearts.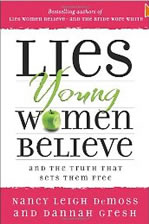 Lies Young Women Believe is a book that readers of all ages will benefit from and be able to turn to as a reference in the face of the confusion and uncertainty so rampant in our society.